The
Neighbourhood
Plan Let's imagine.

Let's share.
Together, we are creating a County-Made Community Brimming with Opportunity
Base31, a historically relevant site located in Picton, Prince Edward County, is being reimagined. We are working with the community to envision the future of this 750-acre site as a dynamic collection of neighbourhoods with a mix of uses: retail, restaurants, places to work and create, parks, trails, and recreation areas, a full complement of community amenities, and a range of housing to suit many needs.
This will be a place steeped in history, alive with energy and infused with nature. It's where its history, the arts and all things culinary will be celebrated, where new housing will help families flourish, and where employment and business opportunities will bring prosperity. Together, we will create a County-made community brimming with opportunity: to live, to learn, to play, and to thrive.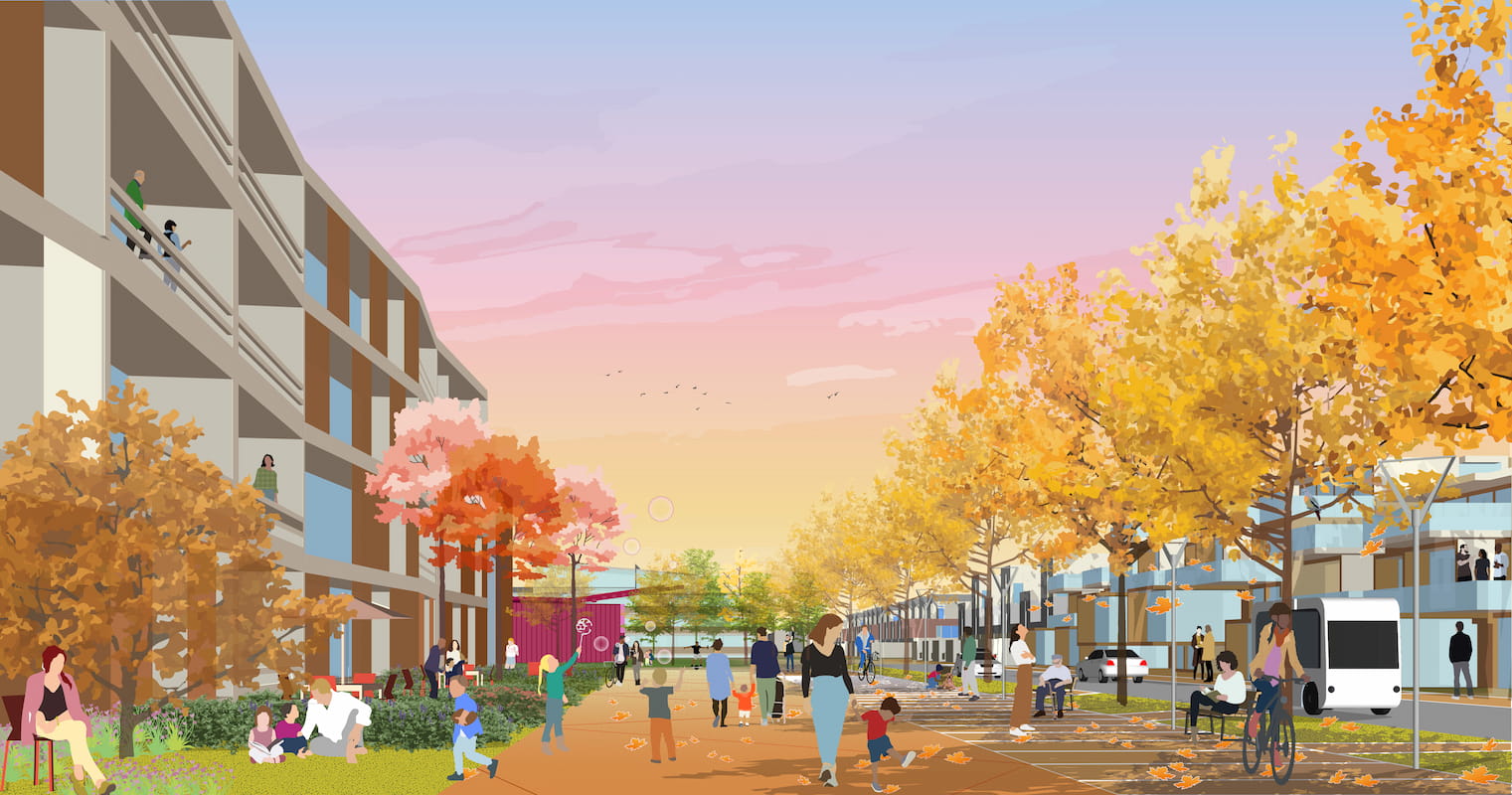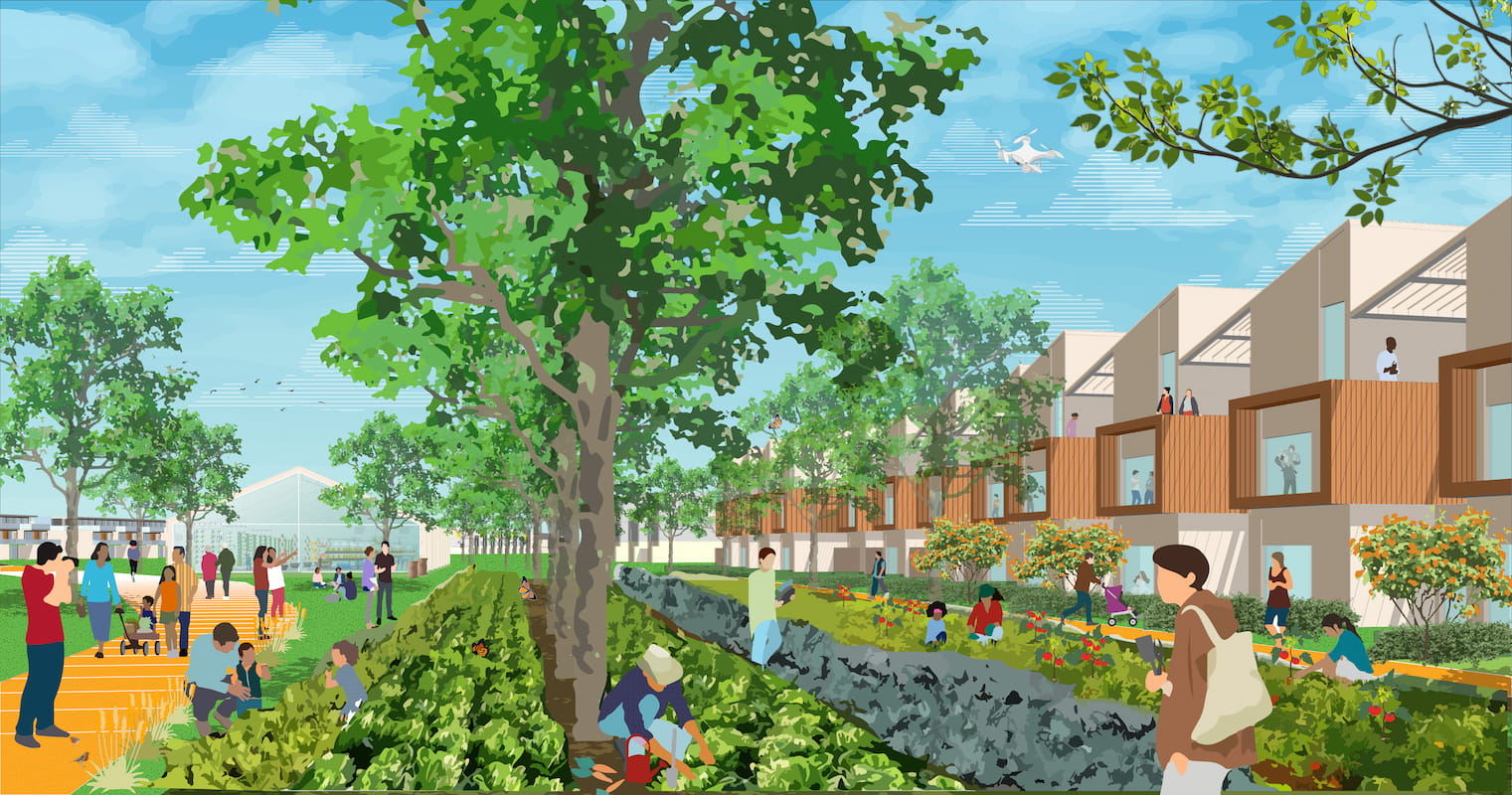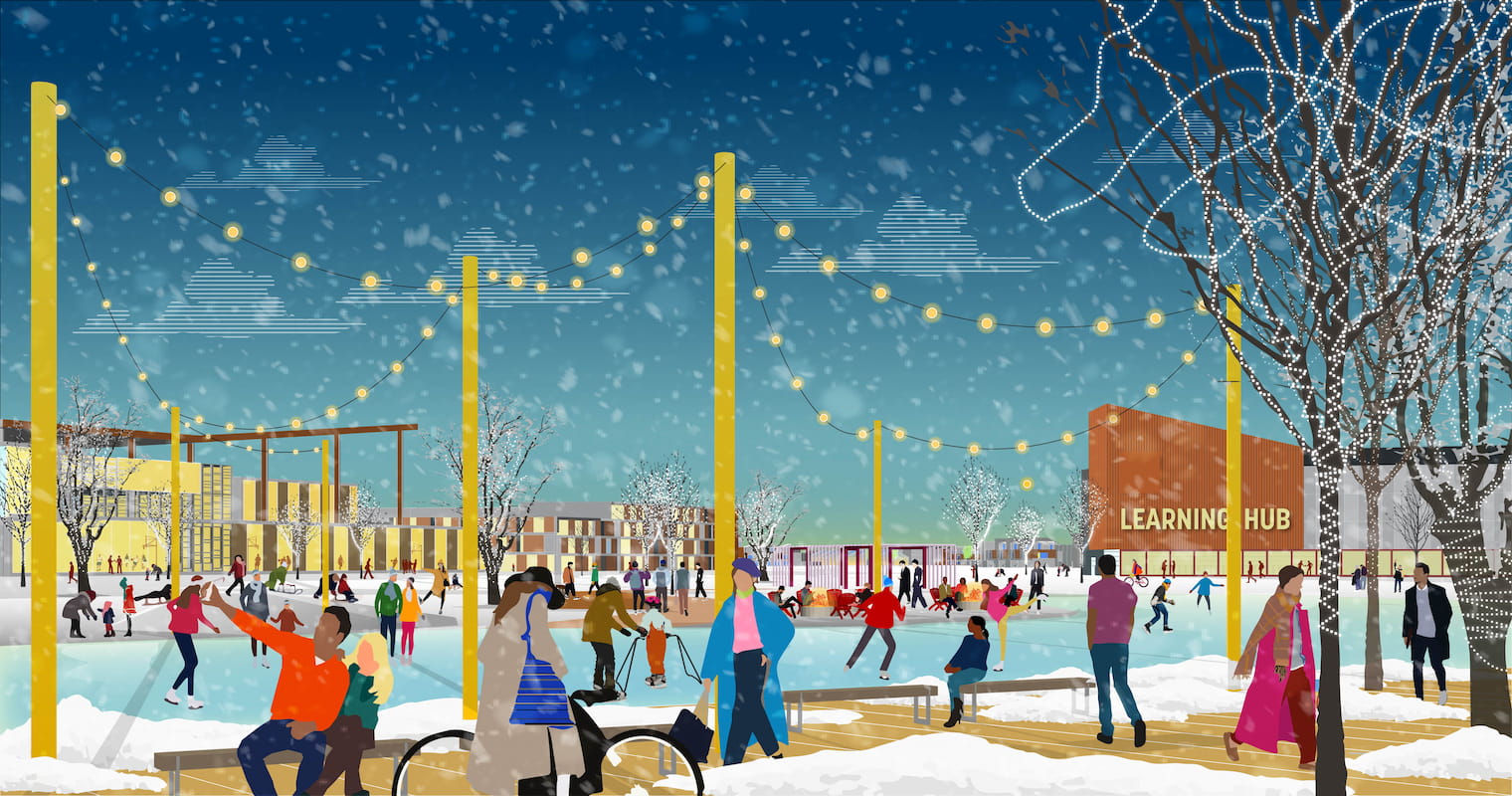 Artist illustrations for aspirational inspiration only.
Guiding Principles
Five guiding principles were developed in collaboration with key stakeholders and the community to help guide the vision for the site.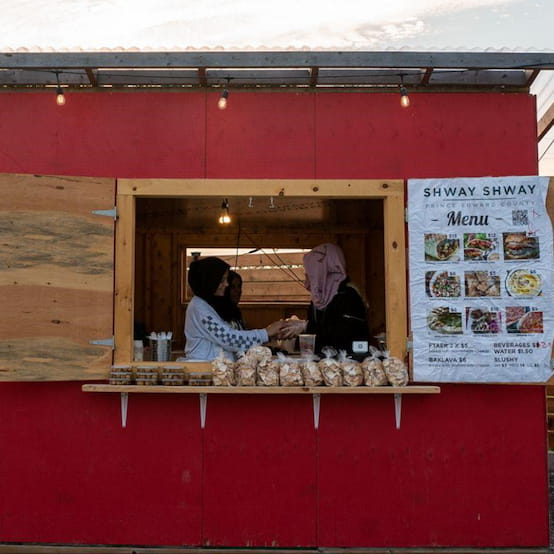 Farm to Table
Grounded in the County's rural roots and as a place of creative pursuits, this Made-in-the-County community will enhance and expand opportunities for many. Here, the economy will be driven through a 'local-first' approach to retail curation, partnerships, and entrepreneurship programs.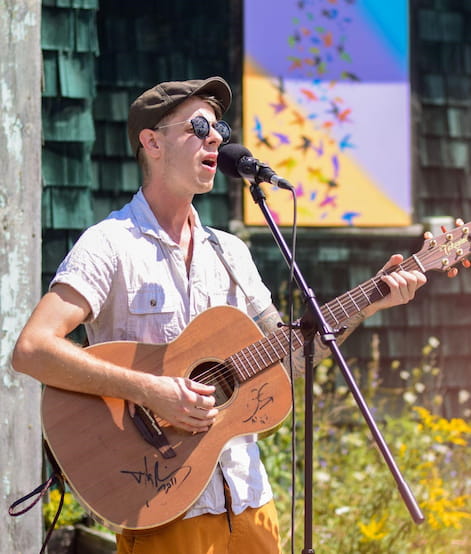 Place and Culture
A walkable community celebrated for its artistic and cultural offerings, and one that embraces every season, with shops and restaurants, live performances, and year-round events. Where parks are connected to trails, places to play, and nearby natural areas.
People and Economy
Built for livability and brimming with opportunity for small businesses to thrive, to expand the workforce, and create opportunities for learning to power the economy. A complete community with services and amenities to meet the needs of today and tomorrow.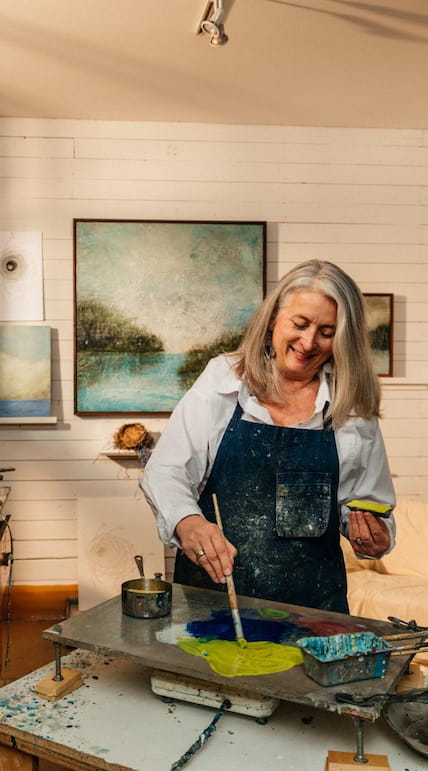 Housing for All
Homes built for families, young and older adults, renters or first time home buyers, and for generations to come - where people of all ages and life stages can live, stay and thrive. This will be a community with everything you need a short distance from your doorstep.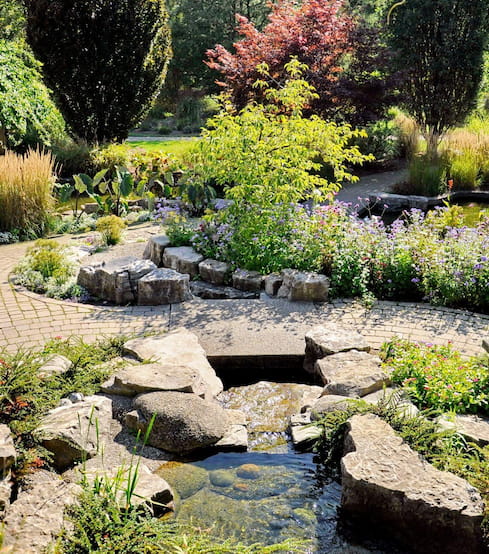 Future Ready
Designed to enhance our wellness, economy, and quality of life. Pedestrian pathways and cycling routes with access to nature to encourage a healthy lifestyle, and community gardens and markets to strengthen the local food economy.
The Community
The 2023 Engagement Series for the Neighbourhood Plan provided an opportunity to gather feedback from the community, and included three online surveys, a workshop series, and an in-person Idea Fair.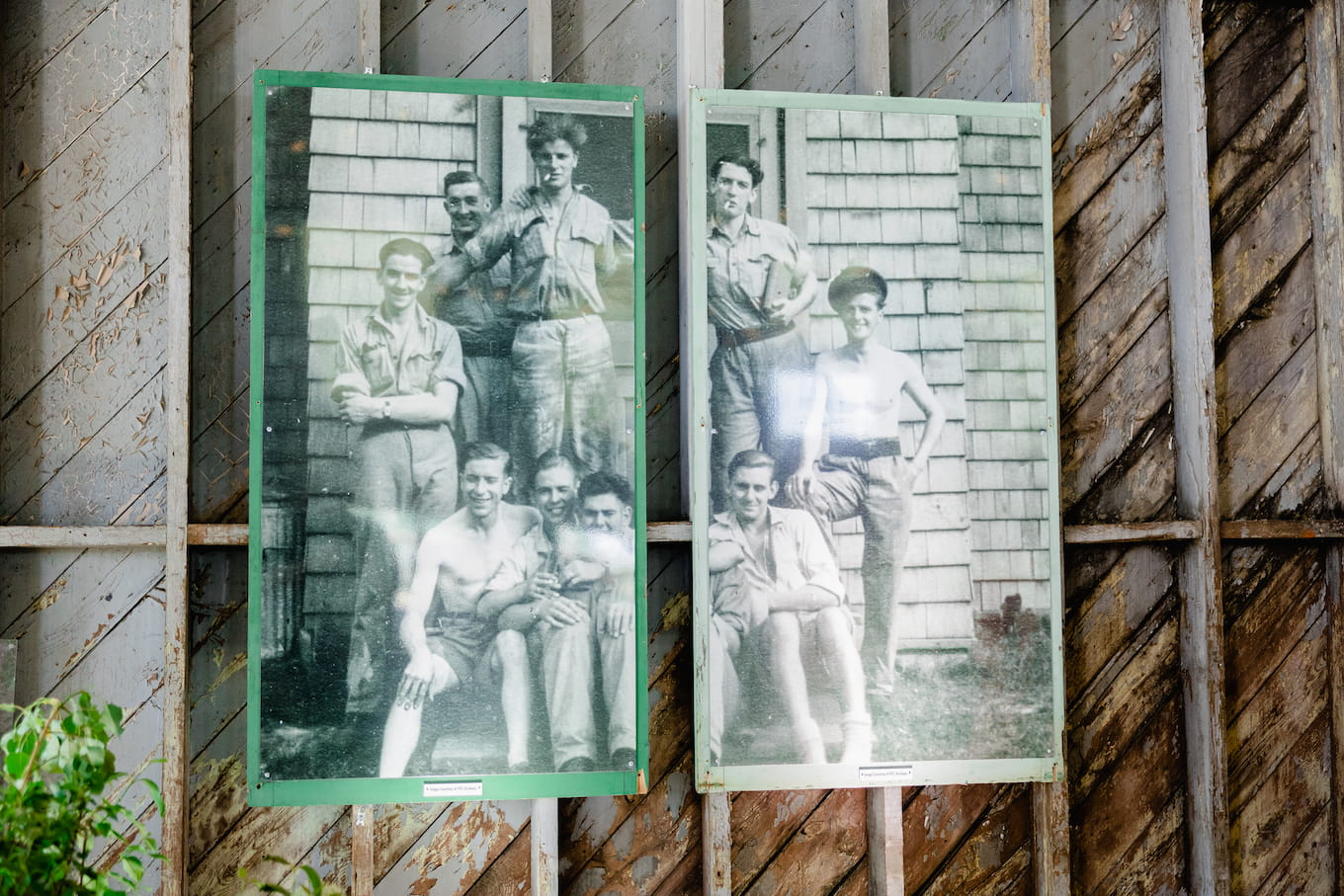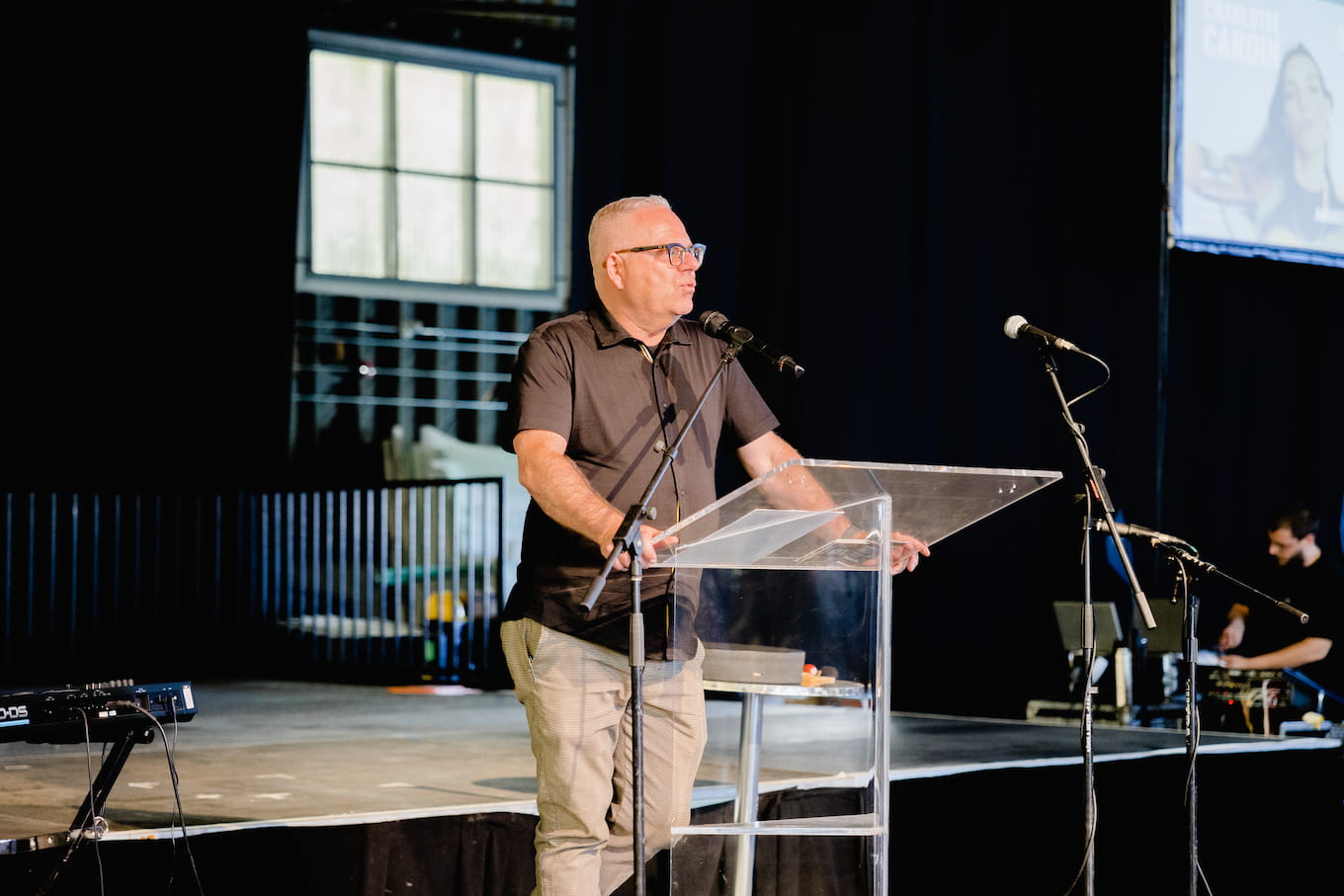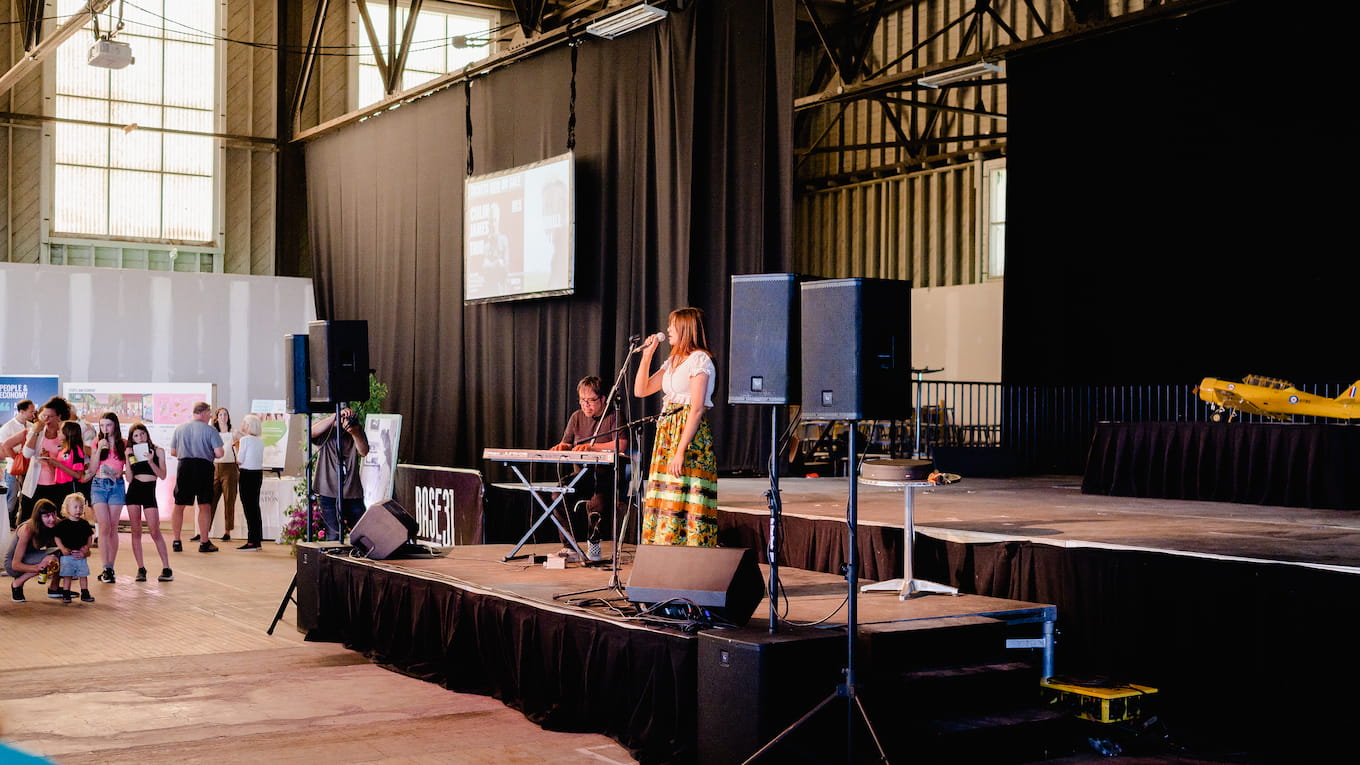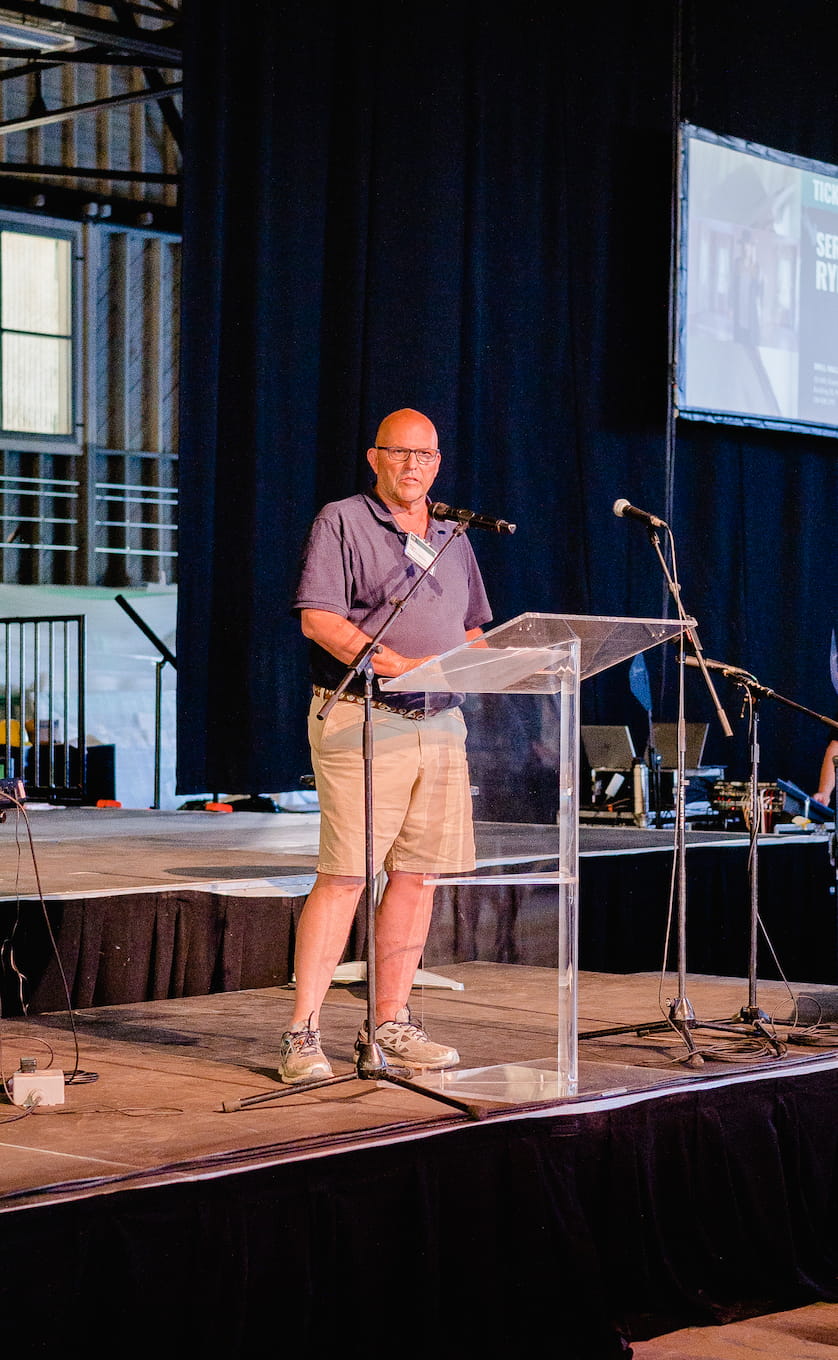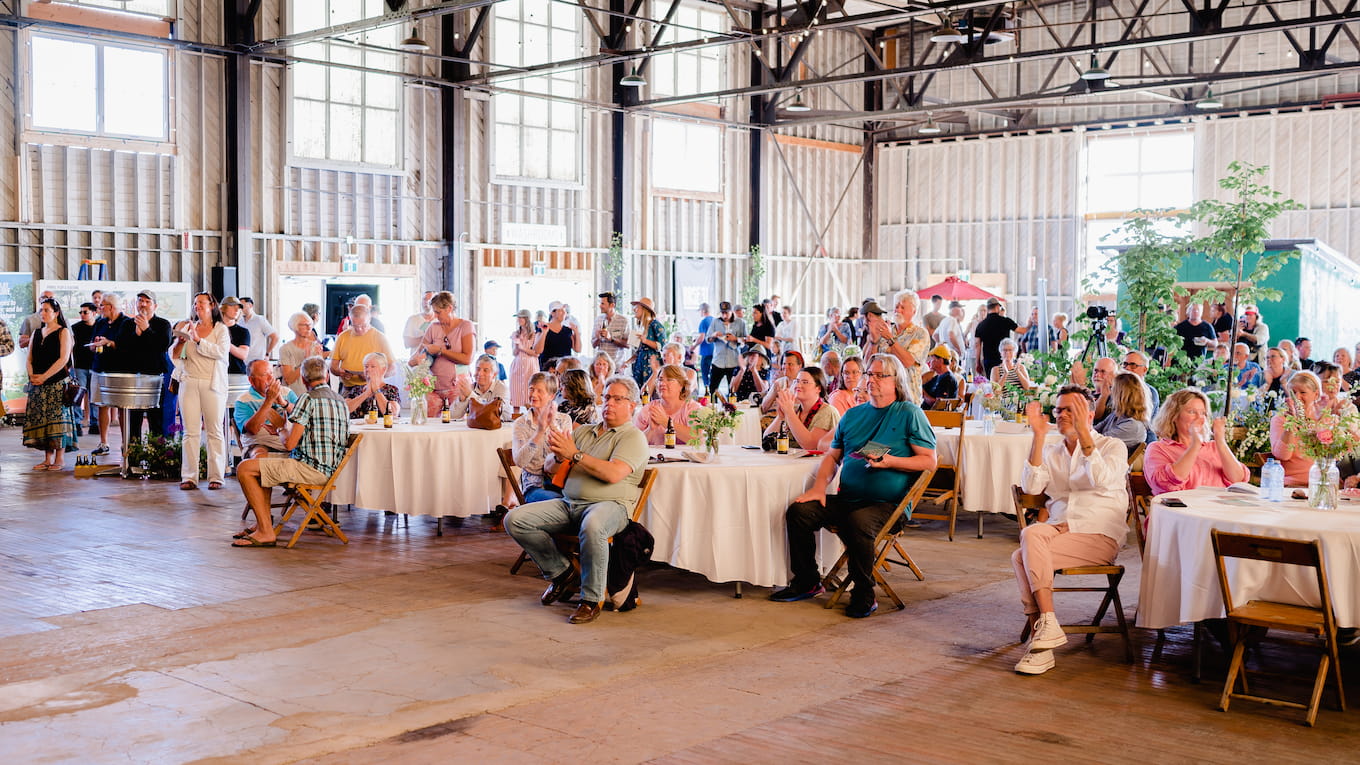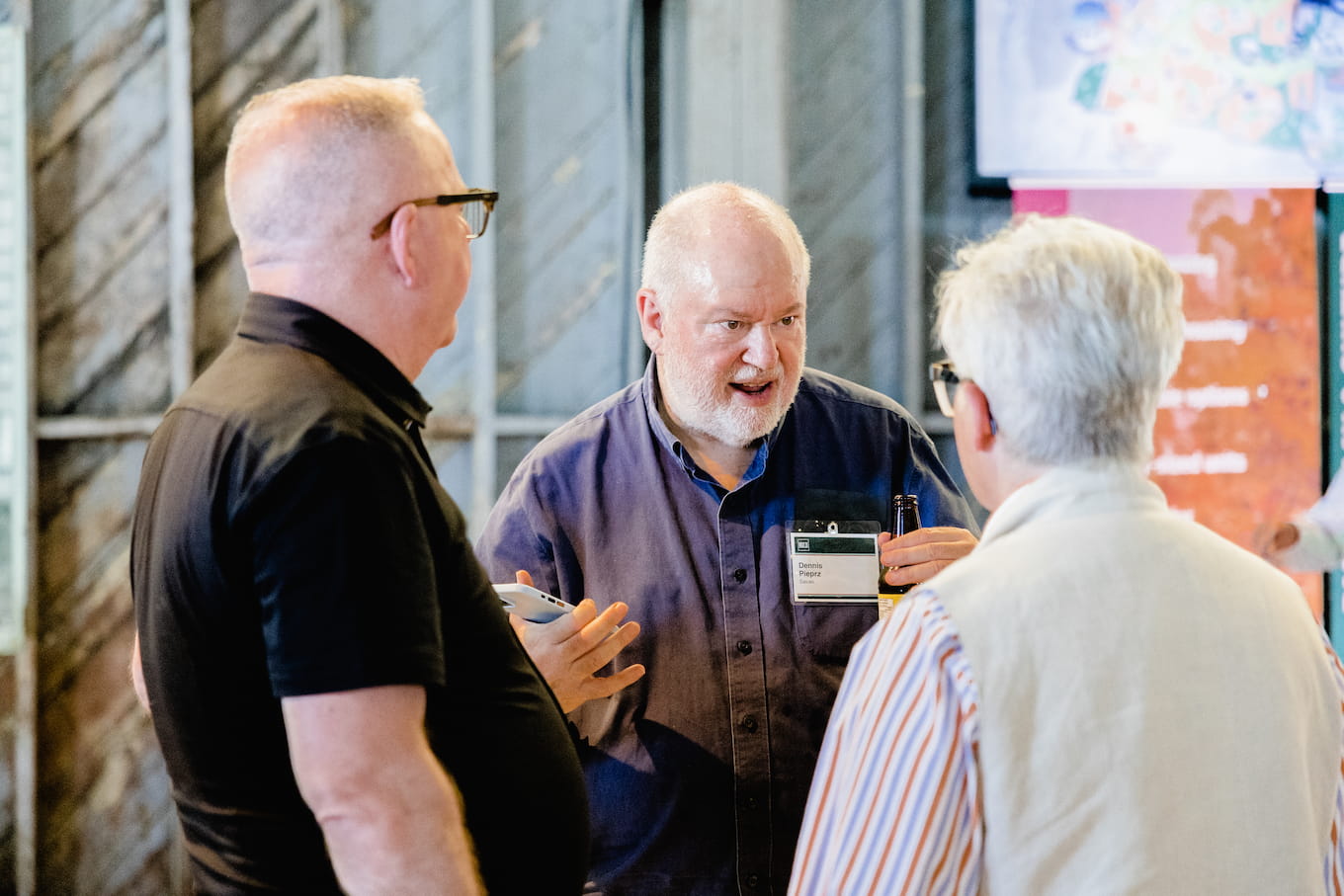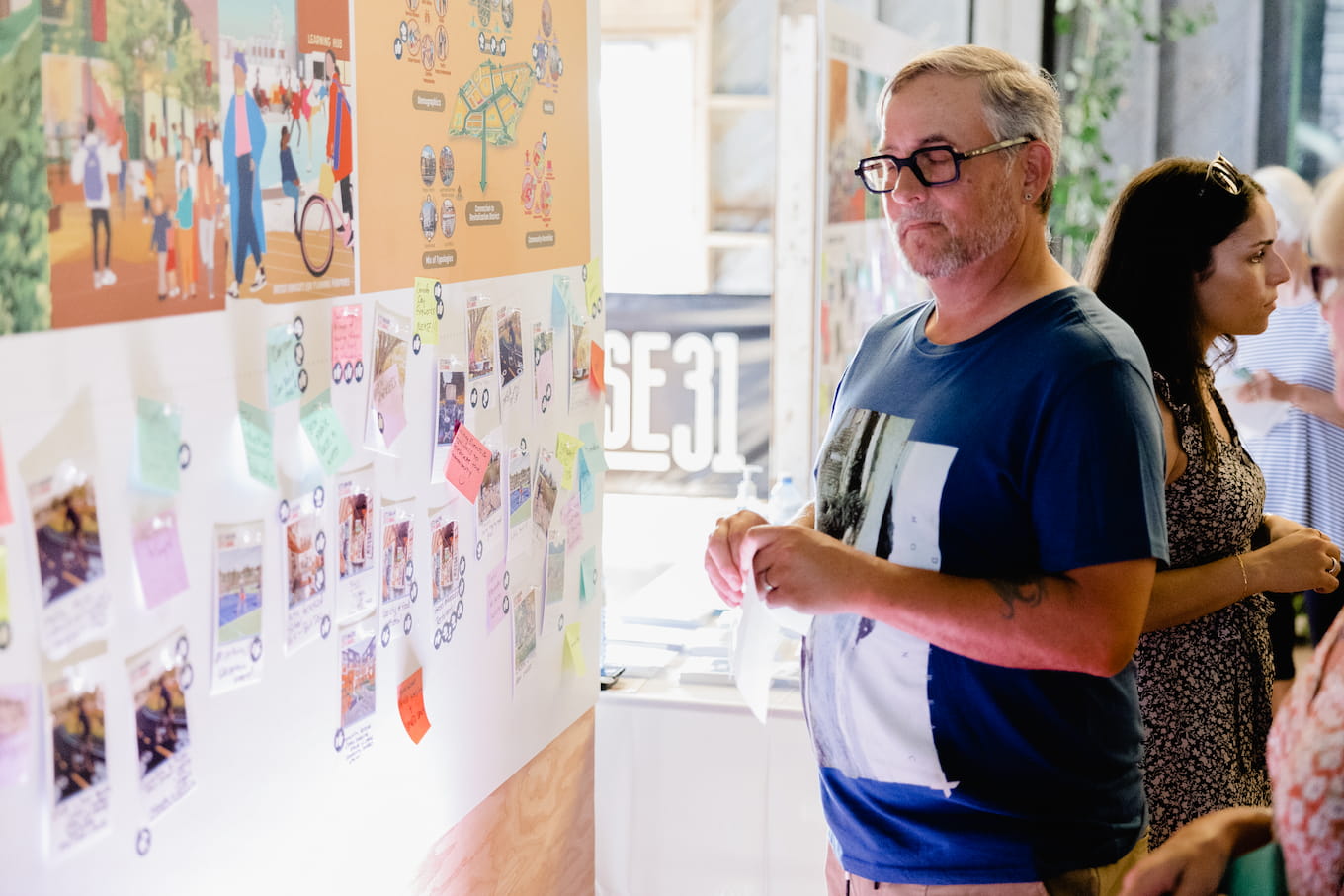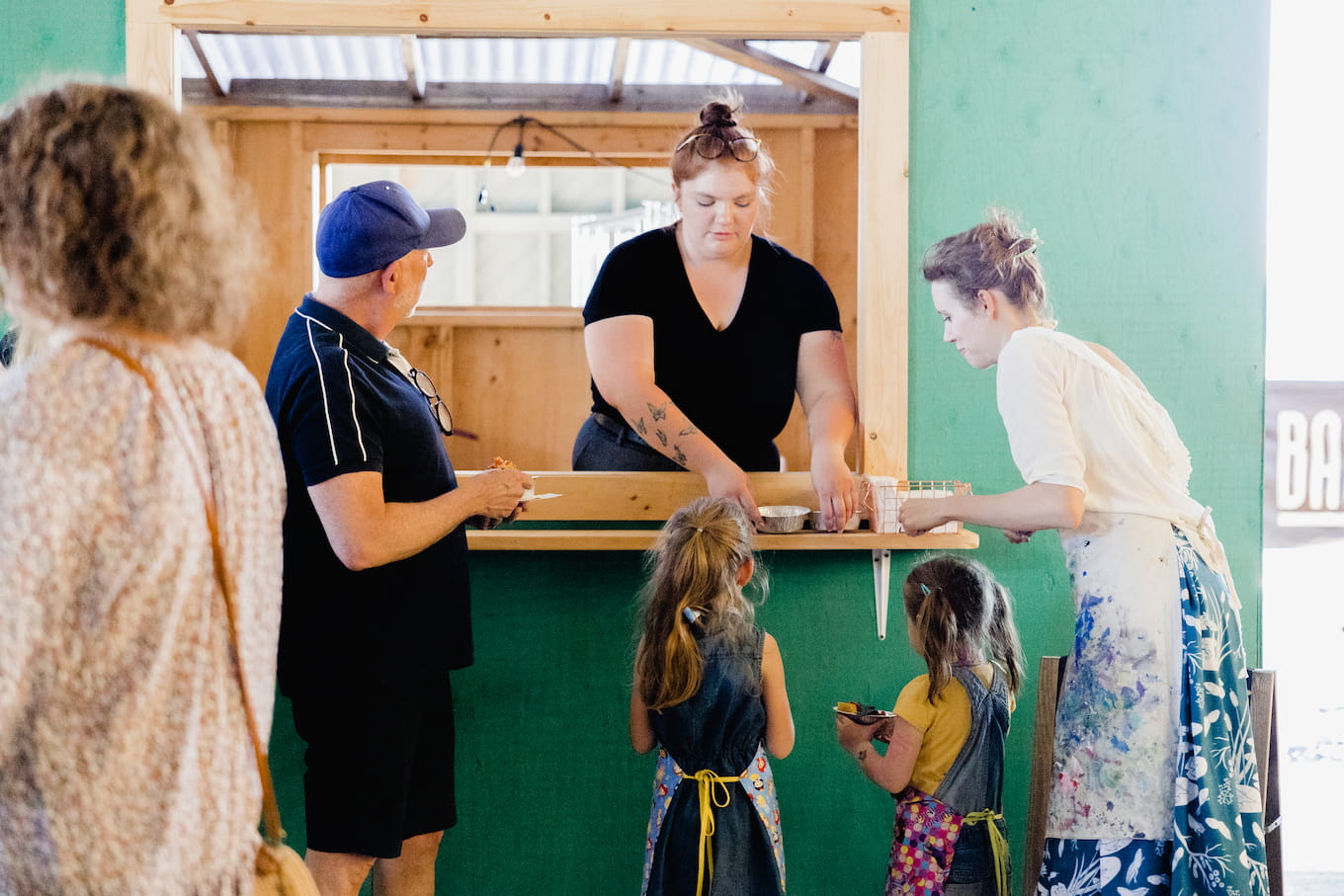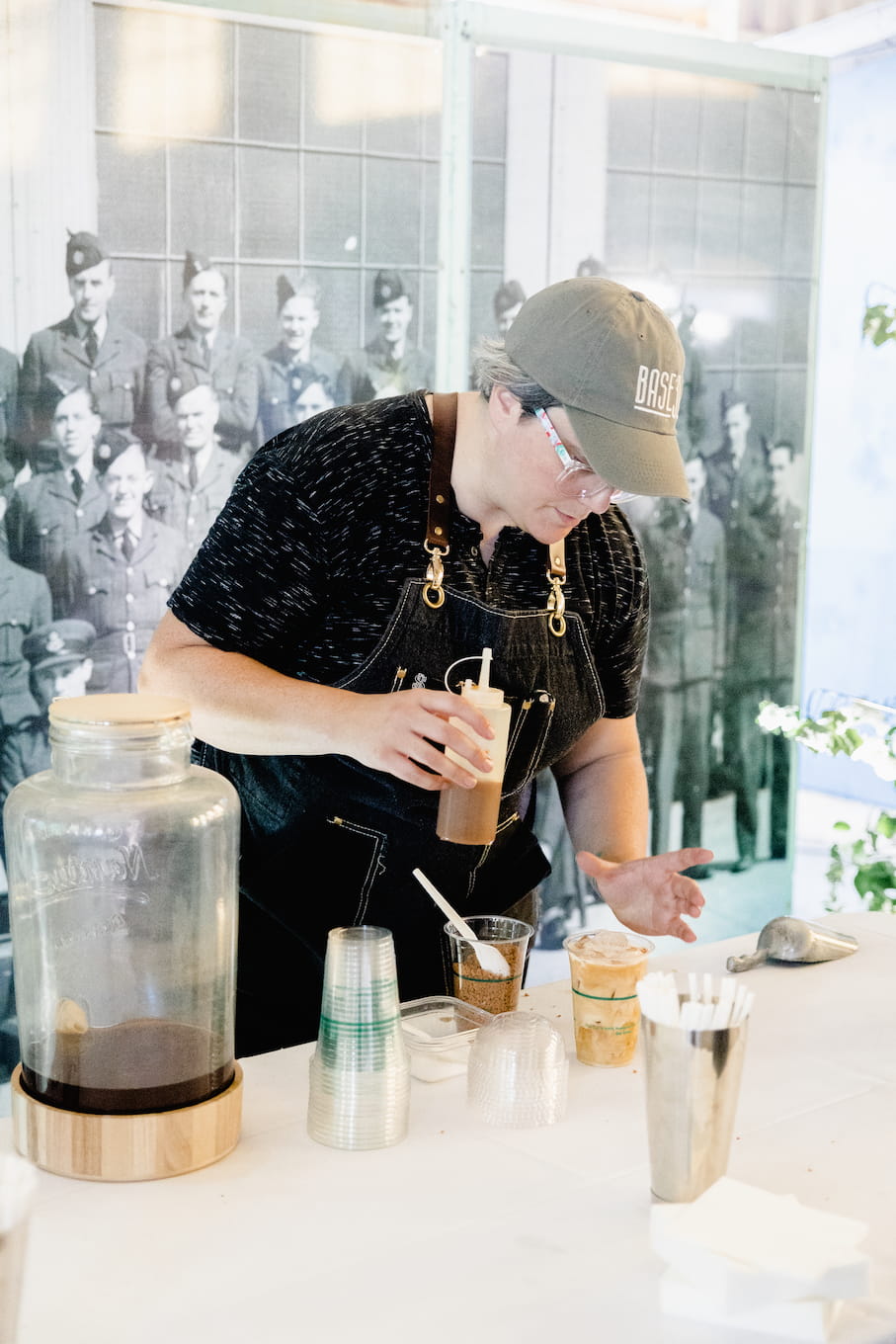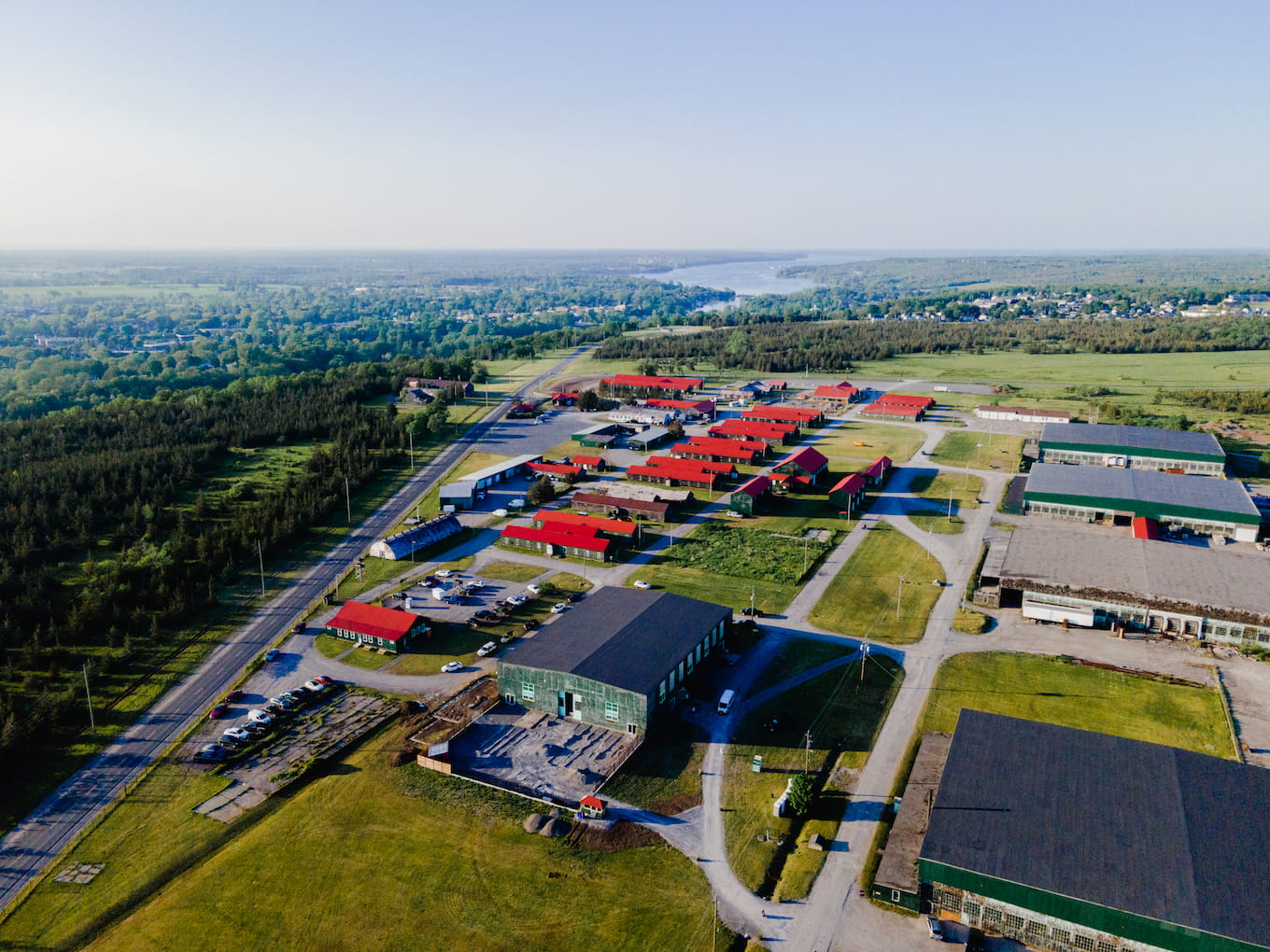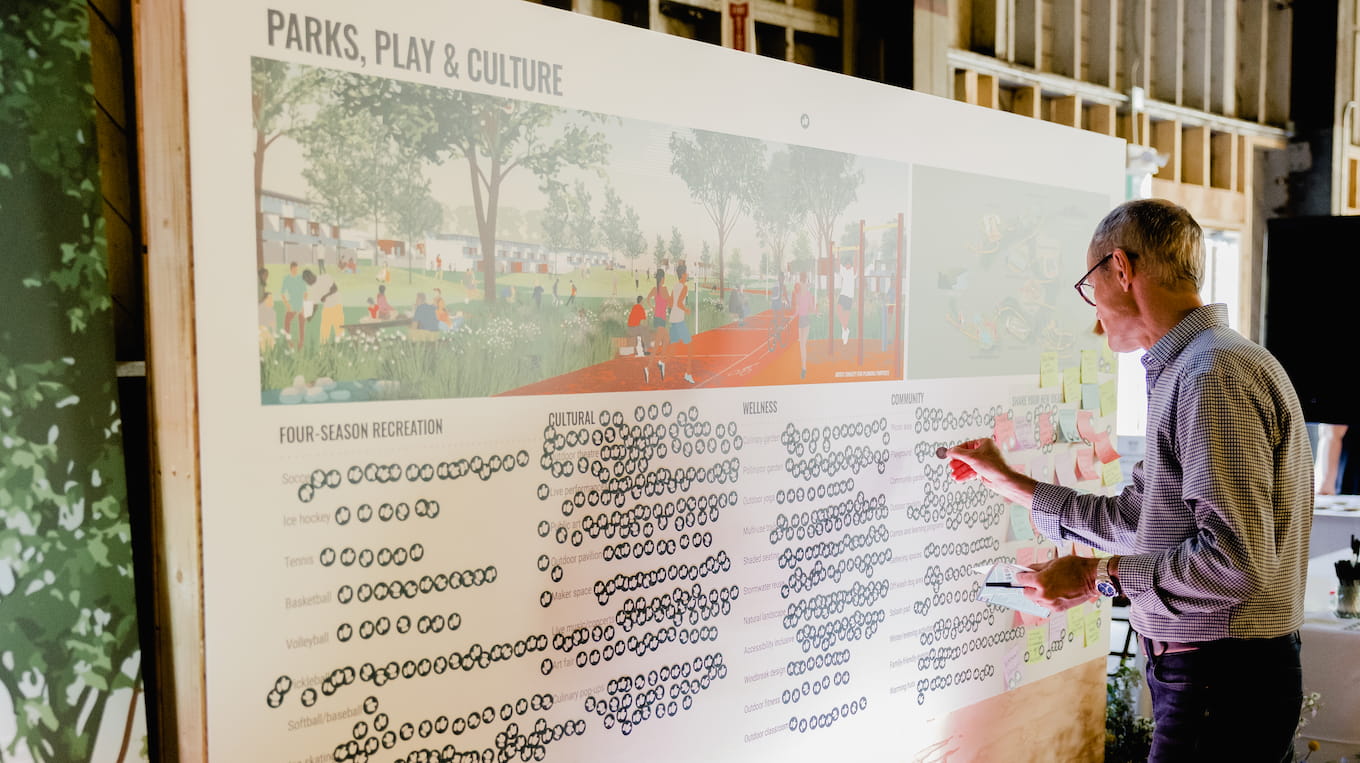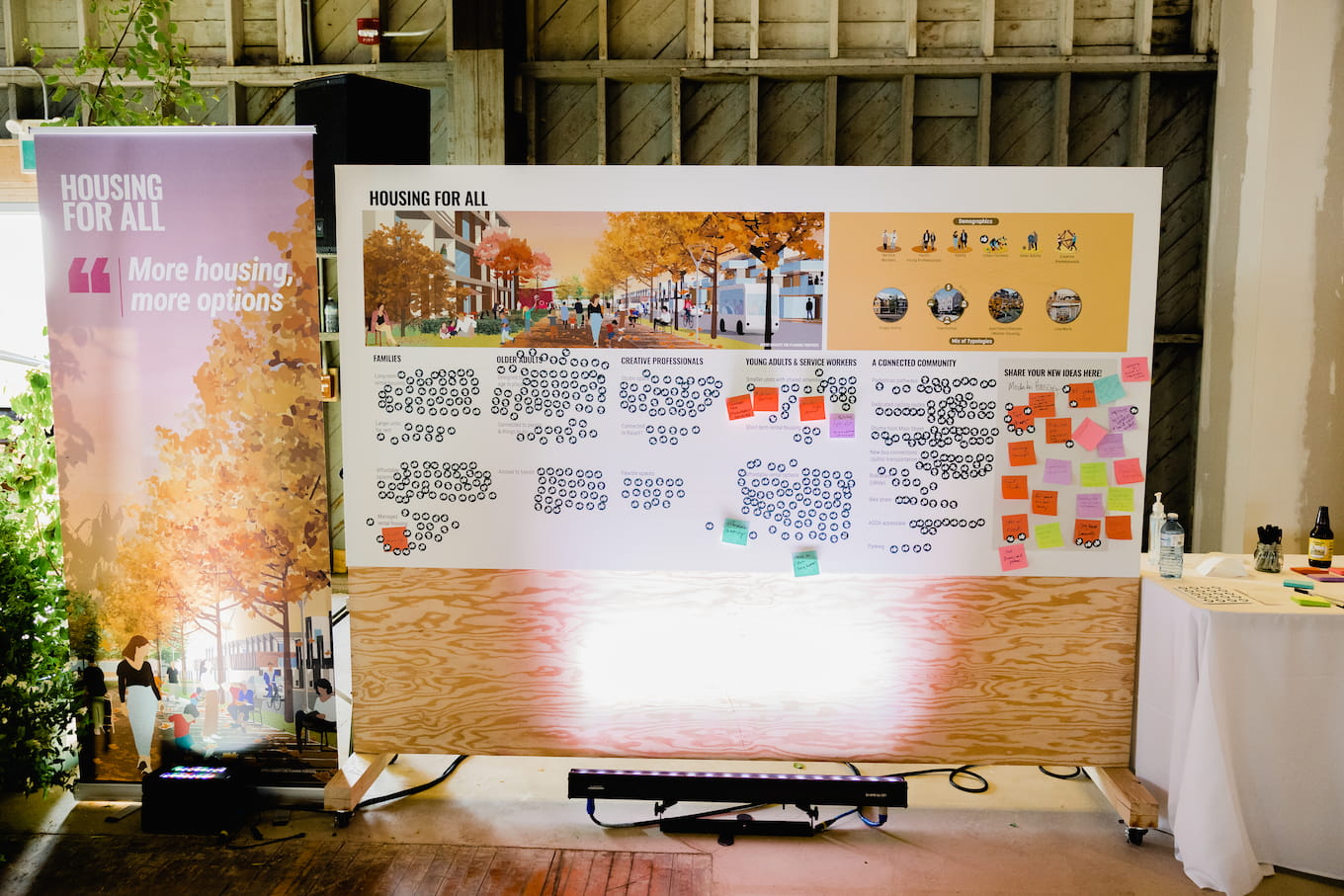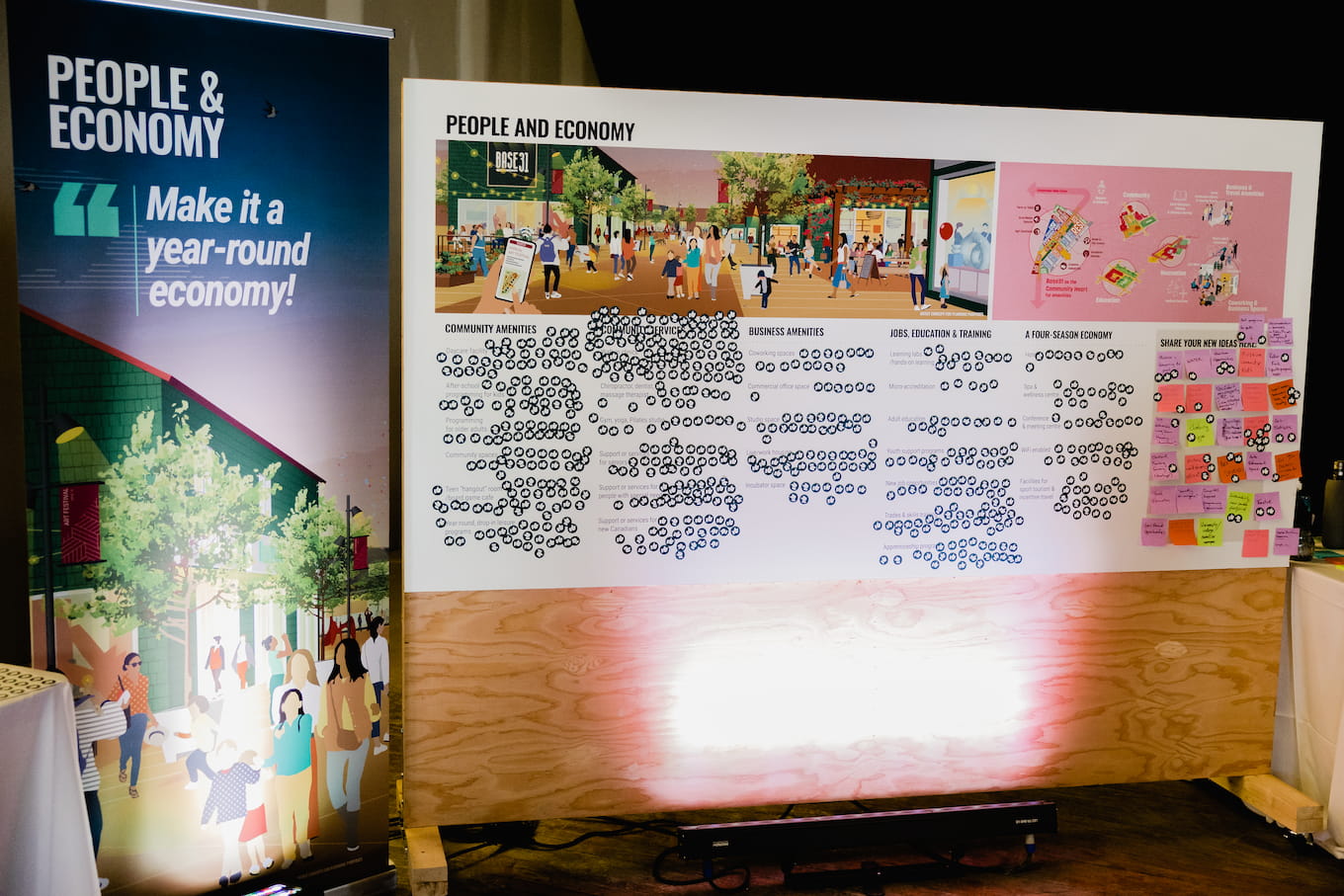 Community Feedback Highlights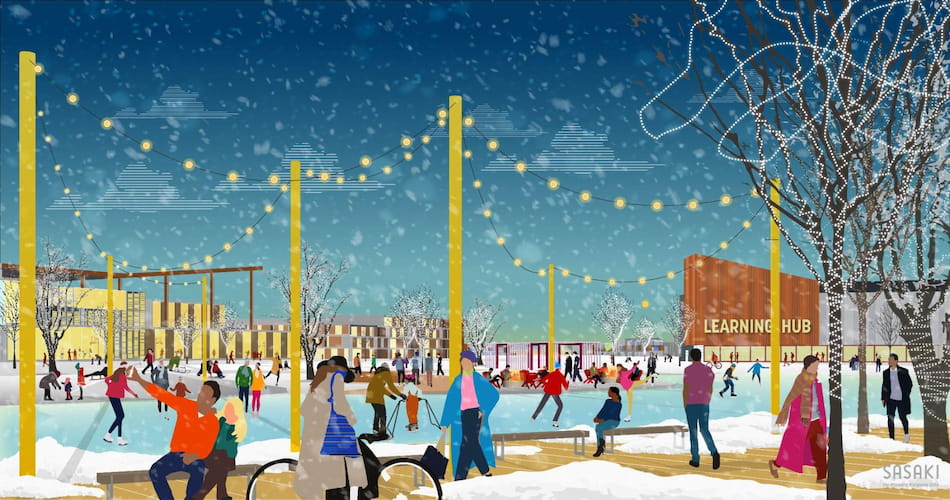 Four-season, all-ages recreation and amenities will solve the problems and constraints experienced by many.
Family-friendly and affordable events and activities should be considered in future programming at Base31.
There is a risk in having youth with "little to do and nowhere to go". Delivering activity-based programming and spaces within a centralized location - for all ages - to foster connection and/or support educational advancement will help youth thrive.
New ways to play and experience during the winter: programming, events, spaces and places for the community.
Opportunities to include best in class sport / recreation facilities to attract Sports Tourism.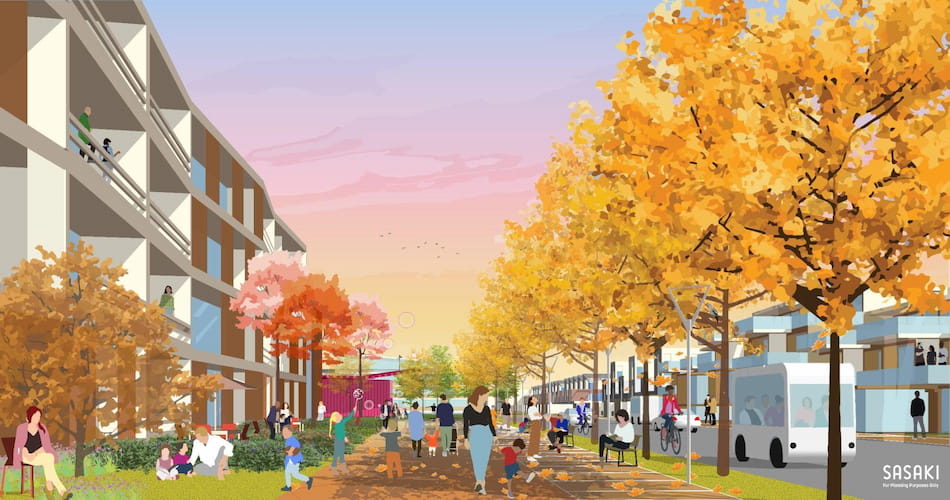 Housing innovation from a variety of perspectives: studio space for artists; smaller units with shared indoor / outdoor amenities for young people and those looking to age in place.
Rental has been highlighted as a much-needed form of housing, including long- term and larger rental units to meet the needs of families.
Affordable housing options for our youth, creative professionals, service workers, and older adults.
Housing that has walkability and connections to a range of amenities.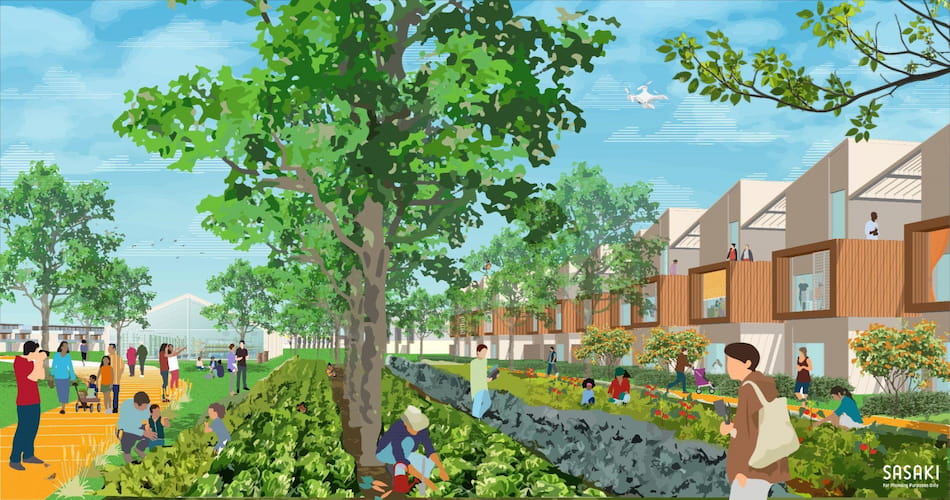 Both the design of this future place and the Revitalization District should reflect a "Made in the County" spirit of place (such as connection to nature and the landscape, arts, culture, and creativity, hospitality/food and beverage, etc.).
A focus on infrastructure that could be shared by those in the agribusiness sector to meet a range of business needs: storage, co-working, shared commercial spaces, maker / studio spaces.
Multi-use facility or commercial space to support local businesses year-round.
Advance "farm to table" opportunities for youth and business owners through education, partnerships and programming.
Continue to advance local business operations through the use of the available spaces at Base31, and activation within our Revitalization District as a central hub.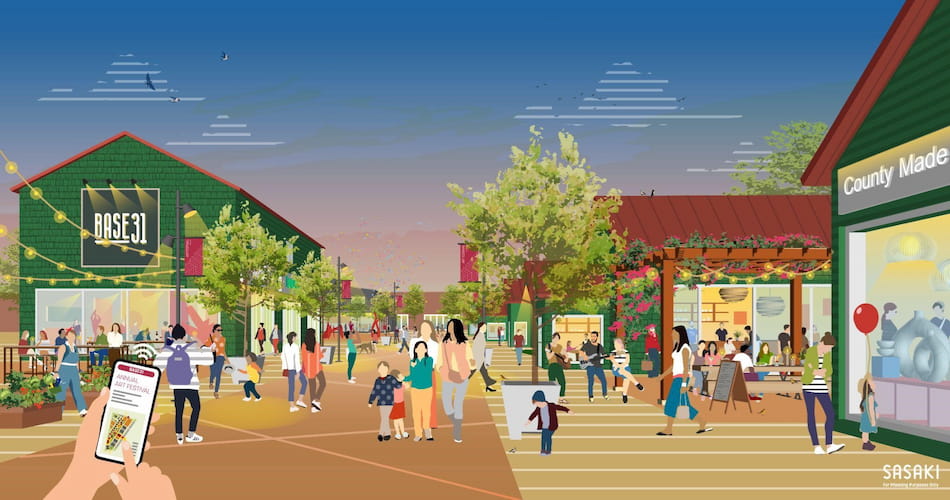 Shared facilities to support the addition of services, such as daycare, and community spaces that bring people together to build connections.
Health care service expansion to support a new population. Walk-in clinics were the top voted community service at the Idea Fair.
Long-term rental options to meet the needs of the service worker and stabilize the County workforce.
Four-season activation, programming and infrastructure is imperative to achieve greater economic vitality.
Access to daycare, wellness services and housing is critical for recruitment and retention of the service worker employee: when business owners and their employees have access to these services, the County thrives.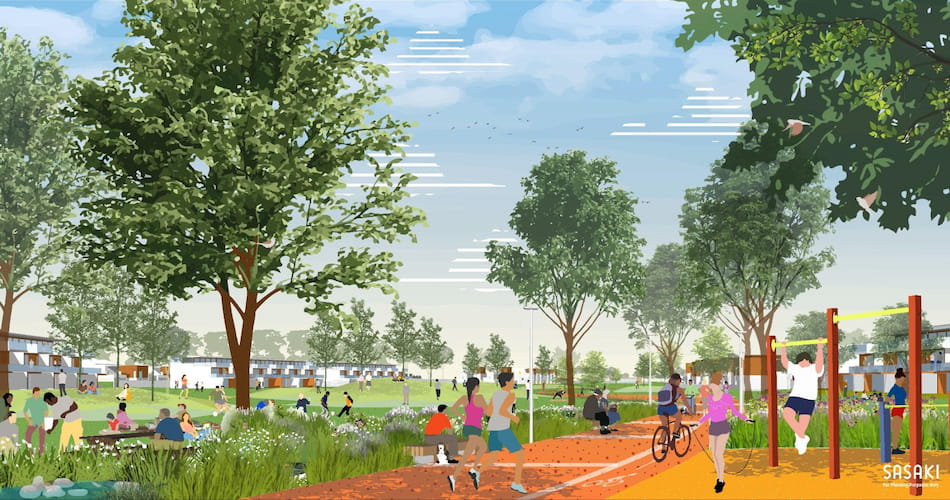 Resilience was voiced by the community as being directly connected to their own personal health and wellbeing. The strength of a community and its ability to thrive requires both amenities and services tied to the management of day-to-day living, such as access to health and wellness-based services and daycare. Sustainable practices are valued, but the basics to increase livability must be the priority.
Active Transportation options to connect people to Base31, such as transportation networks, public transportation, a shuttle, creating connections to surrounding neighbourhoods, and better cycling routes.
Quality of life is highlighted as the ability to have: things to do, outdoor and indoor spaces for youth, seniors, and families.
Resilience can be achieved if the future development is designed to be both adaptable and responsive throughout the project's duration.
---
Planning & Project
Resources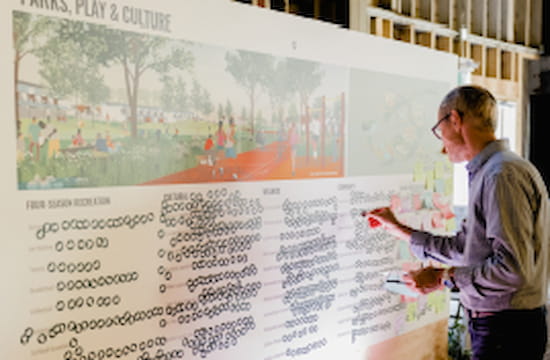 Relive the 2023 Idea Fair
On May 31, 2023, we hosted the first public community meeting about the Neighbourhood Plan, with over 375 attendees including residents, local businesses, and community organizations from across the County.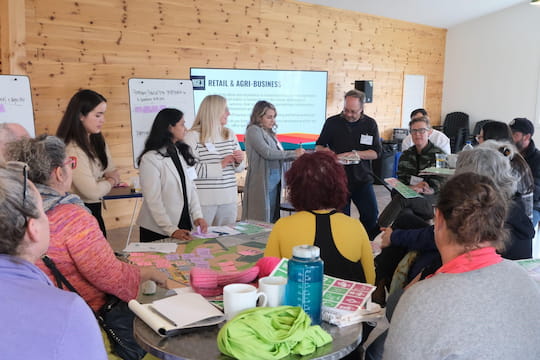 The Community Engagement Report
The 2023 Engagement Series Report summarizes the feedback received from key stakeholders and the community over a five-month period, both online and in-person, and has helped to inform the plan for the site. This report will become part of a formal Official Plan Amendment application submission this year.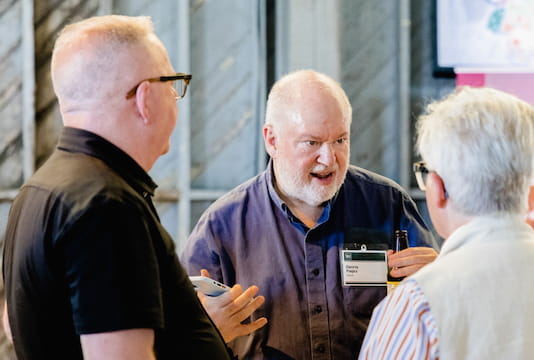 Have a Question?
Read our most frequently asked questions, which has been created based on comments and feedback from the community.
Stay Connected
Join us! Sign up to receive updates about the Base31 Neighbourhood Plan.
About the site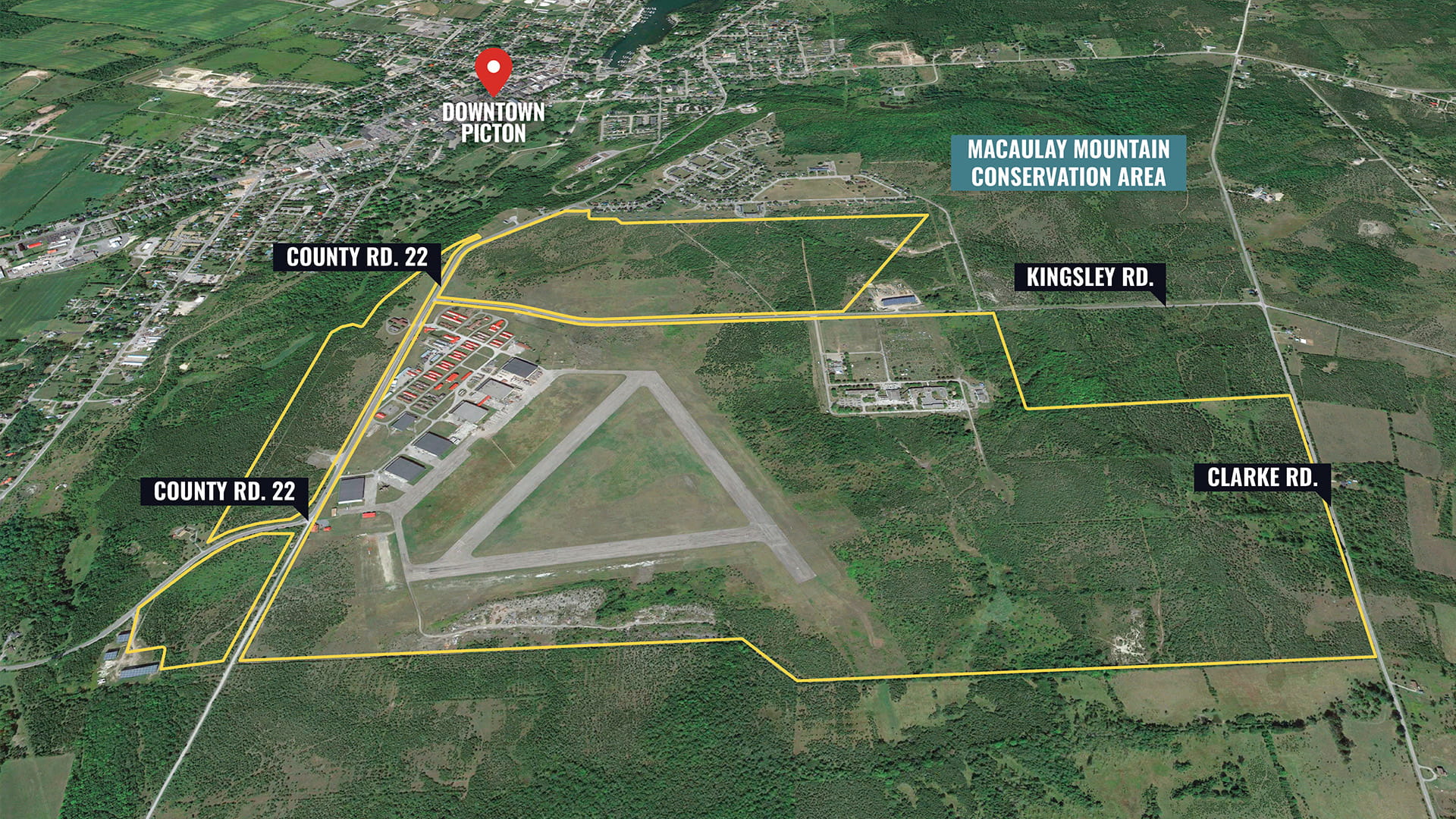 750 acres, Reimagined
Located on 'the ridge' of County Road 22 overlooking Picton, Prince Edward County, ON.
Surrounded by nature with inspiring views of Lake Ontario.
Connected to existing natural areas: Macaulay Mountain Conservation Area, Marsh Creek and the Millennium Trail.
750 acres, with a mix of uses, provides a vast canvas to co-create a future community together.
A 70-acre revitalization district– an evolving new and exciting destination with festivals, public art, gallery re-openings, and concerts. This first co-creation effort onsite includes: a new team, new businesses, and new infrastructure that supports existing and future tenants.
The Timeline
The process of planning a community of this size is one that takes a long time and has many iterations. This is just the beginning. Engagement with the local community to help create the vision for the site will be completed in phases and take place over many years, covering a range of topics as the project evolves. Ensure you stay up to date on these engagement phases here.
Frequently Asked Questions
PEC Community Partners is a group of community builders including Tercot Communities, DECO Communities, PEC Placemaking, and Rockport Group. The Ontario-based partnership brings together expertise in complete community development, affordable housing and commercial space, mixed-use residential, site servicing and infrastructure, and adaptive re-use of heritage sites with a specific focus on creative placemaking. In 2021, PEC Community Partners Inc. purchased the former site of a World War II airbase known as Loch-Sloy Business Park and an adjacent property in Prince Edward County, Ontario for an approximately 750-acre assemblage. This next stage in its history will be as home to one of the nation's largest revitalization projects.
The partnership's first priority was to kick off a multi-year revitalization of the 70-acre portion of the site which includes the former barracks, mess halls, hangars and other buildings – renamed in May 2022 as Base31. This ambitious revitalization effort includes the adaptive re-use of many of the historical buildings, transformation of the landscape, and a significant investment in placemaking, public art, programming, site activation, and food and beverage. As part of this program, the Prince Edward County community was invited to help co-create its future.
In 2023, Base31 launched a full summer season of events, concerts, gallery openings and site and building improvements accommodating a wide range of audiences.
More than 150 local collaborators have joined forces on the revitalization of Base31. The project is employing the strategies and principles of 'creative placemaking' to foster a strong sense of place that honours and celebrates the past while providing a platform to imagine a new future. Our efforts are leveraging the power of arts and culture to generate positive change and helping to transform the site into a world-renowned cultural destination. Since 2022, thousands have attended concerts and events, and the team at Base31 has grown significantly and is expected to continue to grow. The team at Base31 is operated by a local procurement mandate to create economic opportunities throughout the County.
When we started this project, we invited the community to co-create Base31 with us because we believe that is how interesting, dynamic and authentic places are made.
In 2023, our community co-creation efforts extended to the full site through the Neighbourhood Plan – an engagement series that provided an opportunity for the community to help create the vision for the 750-acre site at Base31.
Five months of engagement online and in person, including 3 surveys, 4 workshops, and a large public meeting known as the "Idea Fair" has provided an opportunity for over 1,500 participants to take part in the conversation and help shape the future of the site. The Neighbourhood Plan has been informed by this community visioning process, and will help guide future planning applications over the coming years.
Engagement with the community has only just begun, and there will be many more opportunities to get involved.
Built upon the five guiding principles for the plan and through our collaboration with the County, various stakeholder groups, and the local community, the 750-acre site is envisioned as a dynamic collection of villages with a mix of uses: retail, restaurants, places to work and create, parks, trails, and recreation areas, a full complement of community amenities, and a range of housing to suit many needs.
Together, we are looking to create a County-made community brimming with opportunity. A place alive with energy, infused with nature, and where history, the arts, and all things culinary are celebrated. Our aim is to deliver a range of new housing options to help families flourish and bring prosperity through new employment and business opportunities.
Our consultations have identified the pressing need for housing options that will meet the needs of a wide range of people in the County. Our aim is to provide housing solutions for people with varying income levels, ages, and life stages, including a spectrum of affordability. We are assessing a broad range of unit types with varying sizes, and as part of our housing strategy, we are looking to include affordable rental and ownership opportunities, short and long-term rental options, family-sized homes, and homes for young and older adults.
This will be defined together with the County and the community through a detailed planning application.
Engagement with the community is ongoing. We welcome you to attend one of our site activations or events at Base31 to share your ideas with the team. You can also return to this website for updates on the project or stay connected by opt-ing to receive Neighbourhood Plan communications straight to your inbox.
This is a long project, and there will be many more opportunities to get involved in the process.
We will continually gather, assess, and report on feedback received through our various engagement tools and activities. Reports will be socialized with the planning team and County Staff as a means to assess opportunities for inclusion in the plan based on site constraints, optimal land use, and priorities outlined by the local community.
The process of planning a community of this size is one that takes a long time and has many iterations. Engagement will be completed in phases and take place over many years, covering a range of topics. We will have future engagement for subsequent planning milestones with many community design iterations.
This is a phased, multi-year project, and will take many decades to complete. Our aim is to create steady growth over the long term. This is just the beginning of the process, and we look forward to continuing to work with the community as the project evolves.
Discover what's on at BASE31
Get in Touch
We want to hear from you. If you have questions or comments about the Base31 Neighbourhood Plan, reach out to us and we'll get in touch as soon as we can.
For media inquiries, please contact: ideas@base31.ca
Land Acknowledgement
We work, live, make, grow, meet, and co-create on the traditional territory of the St. Lawrence Iroquoians, Anishnaabeg, Wendat, Haudenosaunee Peoples and Mississauga nations. Our site is adjacent to the Kanien'keha:ka (Mohawk) community of Tyendinaga Mohawk Territory. We are grateful to all the Indigenous and Métis peoples who have been traditional and contemporary stewards of this region. We recognize that all non-Indigenous people are visitors to this land, and it is our responsibility to embrace our Treaty obligation to care for the land.